CHICAGO—When there's no violent storm, no actual shipwreck, and no living seagulls, it's a bit of a stretch to convey the kind of marine setting of Walt Disney's 1989 film "The Little Mermaid." But Music Theater Works does a terrific job of conveying a seaside and the kind of underwater world you experience in animated film. More importantly, a show like "The Little Mermaid" is a delight that offers positive and uplifting affirmation.
With talented co-directors Joshua Castille and Stacey Flaster's artistic touch on the show's set design, and with imaginative designers and charming performers, it's not long before we believe we're in a waterscape as we watch 1837 from Hans Christian Andersen's fairy tale comes to life on stage.
From story to film to musical
Indeed, there are plenty of waterlogged objects hanging from the theater's rafters (the set designed by Shane Cinal and Ellen Marcus, with shimmering lighting by Andrew Meyers), and a hint of salt in the air for suggest that we are no longer in a city environment.
Featuring a book by Doug Wright, this theatrical revival is an enchanting delight for children and their families. The story revolves around a teenage mermaid princess, Ariel, who is intrigued by the world of mankind and wants to explore the land above the sea.
Her father, Triton, king of the seas, opposes it, but Ariel, stubborn like many teenagers, goes to earth and falls in love with Eric, a human prince. She has a problem though, as she can't walk with a mermaid tail. Determined, she strikes a Faustian bargain with a sea witch, Ursula, to trade her tail for feet. It's a dangerous business because Ariel must kiss Eric within three days, and if she fails, she will lose her voice and her freedom.
Performers on a maritime stage
While it's important to convey an oceanic feel, the most captivating aspect of this show are the performers, some of whom have to portray undulating shell creatures with no vertebrae. On the evil side, there's the horrible sea witch, Ursula, played very tastefully by Caroline Lyell, assisted by Gus Franchere as Flotsam and Anakin White as Jetsam.
On the good side, there's the golden-voiced Joselle Reyes as Ariel and her friends Scuttle, played by Clayton Cross; Sebastian played by Wesley Anthony Clerge; Flounder, in a nice turn from Eloise Mulliken; and Ariel's love interest Prince Eric, played by a convincing, velvety-voiced Nathan Karnik.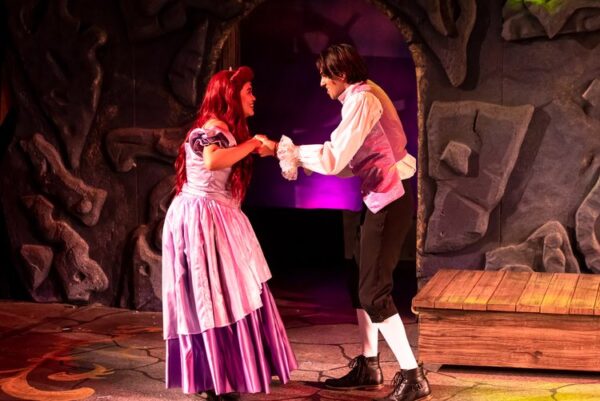 Since this "Mermaid" is a musical, there are many captivating songs composed by Alan Menken with lyrics by Howard Ashman and Glen Slater, such as "Part of Your World", "Poor Unfortunate Souls", "Under The Sea and "Kiss the girls." These are directed by musical director Celia Villacres and energized by choreography by Flaster and Matthew Weidenbener.
A highlight of the show is Rachel M. Sypniewski's whimsical and colorful costumes. It's not easy to come up with an inventive outfit for actors who need to look and be able to move in a form-fitting, rubbery way to give the appearance of fish-like creatures. That's why some of Sypniewski's designs are ingenious.
For young and under
The children in the show I watched looked wonderfully happy on their faces as the magic of the show unfolded. Indeed, the adult family members accompanying the children seemed to be having fun themselves. But while "The Little Mermaid" is fun entertainment, it also has important messages for young people.
For example, the heroine of the story, Ariel, is brave. She knows what she wants and is ready to sacrifice herself for love and freedom. The fantasy demonstrates that every sacrifice carries a risk with its own reward.
It also teaches that while someone may have performed a heroic feat such as saving the prince by the mermaid, they may not be compensated for it. It is an encouragement to do what one believes to be right even if one does not always receive a reward for the effort.
But the show is not just for kids. Adults, who are also inundated with poor entertainment choices, will enjoy this production as well. Indeed, this show has a way of bringing out the child in everyone.

'The little Mermaid'
Musical theater works
North Shore Performing Arts Center
9501 Skokie Blvd., Skokie, Illinois.
Tickets: 847-673-6300 or MusicTheaterWorks.com
Duration: 2 hours 35 minutes
Closing: June 26, 2022