MARYVILLE, Mo. — Since her teenage years, Northwest Missouri State University student Jessica Vogt has performed and spoken as JessAngelique.
Angelique started writing songs at age 12. From there, she grew in her talents and began to share them with others.
"I did this thing called the Girls' Club when I was like seventh grade through my sophomore year of high school where I was singing worship songs," she said.
Each time, she performed in front of about thirty girls from third to fifth grade.
"That's what really helped me hone my craft, get better on the guitar, get better in performance," she said.
At the time, her father worked for a radio station in Nebraska. Her career has allowed her to meet various people involved in music, including Angélique's former vocal coach.
Angelique and her vocal coach worked well together, and soon after, her coach invited her to do two performances.
At 15, Angélique opened for Bravehearted Girls, an event run by her vocal coach with the aim of helping young girls grow in self-esteem and Christian faith.
These performances gave Angélique's dad the idea of ​​performing for groups of young people.
"After that, my father said to me: 'How about we do this ourselves?'", she says. "And then one day my dad said, 'Let's sell our houses, quit our jobs, move into an RV, buy a little house in Savannah, Missouri, and start shooting. ""
A church invited her to perform for a youth group in Redlands, California. Following this performance, the school attached to the church asked him to perform in the school chapel. Because the school event was well received, Angélique and her family decided to shift their focus from youth groups to school assemblies.
Before she started filming, she gave her dog to a boy from Nebraska. The boy's father was a youth pastor at a church in Kearney, Nebraska. This opened the door for him and allowed him to do two performances for a college in the city.
"They went wonderfully. It was crazy how successful it was. The kids loved it," she said. "…And then we had about 150 children who came to the night concert which we did because we always do a night concert if we can. And then we had about 40 children who came to accept Christ that night.
The responses she received spurred her to pursue the interest in songwriting that she developed at the age of 12.
"We wanted to do that over and over again and replicate that, so that's what really started," she said, adding that in her first year on tour, she had attended about 100 school assemblies.
It may have occurred in areas such as Missouri, Iowa, Nebraska, Kansas, Oklahoma, Arizona, California, and Illinois.
Before she started editing full time, she took the time to work on her songs.
"We worked with (Ted T., a producer in Nashville), and that helped us get a really good product. After that, we started touring with those songs," Angelique said, describing her assembly music as a mix of pop, hip-hop, and rock.
She also worked to develop a message that would fit with her music.
"My mom came up with the idea for the MVP message because she said, 'You matter, you have value, and you have purpose…'" Angelique said. "It's like subverting what you think (as) the most valuable player in you being important, having value and having a purpose. But when you think about the most valuable player, there's only one only one person. But if you think about it, we're all MVPs, and that's what we're really trying to say."
She also edits with Micah Johns, who performs under the name Mike Dawson. He talks about how he lost 100 pounds in a year and relates that to the value message and how certain things can weigh on a person mentally.
While the overall MVP message remains the same, Angelique shapes her speeches for the audience she is addressing.
"We really try to meet the needs of the age group we're reaching," she said.
When she speaks to elementary school students, she conveys a message about anti-bullying and being kind to one another.
When speaking to middle and high school students, she talks about social media, drug prevention and self-esteem.
"A lot of people say, 'I only speak in high school or I only speak in elementary school,'" she said. "But ours is very versatile where we can reach elementary school as much as that we can reach high school."
Angelique believes this versatility allows her to speak to a wider range of children than most speakers.
"We're really different in the sense that we keep the kids engaged," she said.
She also has a personal reason for the edits she does.
"I would say the main reason (for playing) is because I was bullied in elementary school," she said, adding that students told her the rate of bullying in the schools diminished after his assemblies. "…I just have a passion for helping kids."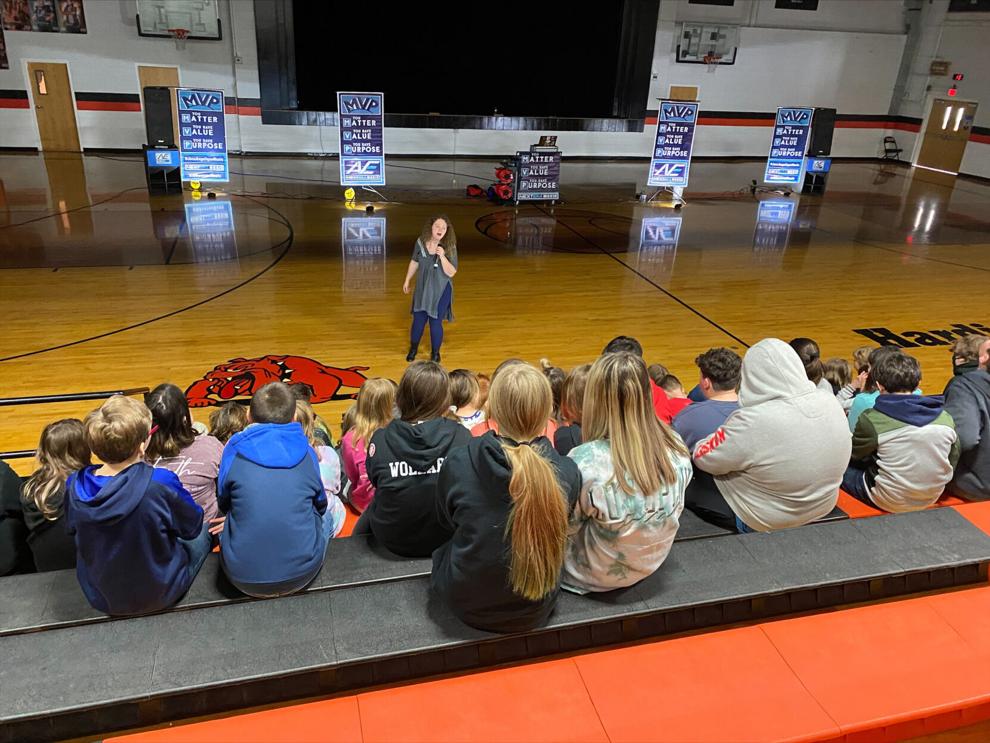 Angelique also mentioned that students would come to her after her performance and tell her that her message had changed their perspectives.
"I realized I could use my gifts and talents for good, and I think God gave me such an amazing gift that I shouldn't waste it," she said.
While Angelique had to take a break due to the COVID-19 pandemic, she says getting back to acting has been a smooth transition.
"It's amazing how I haven't done any more for a year and how I just feel like I'm getting back on horseback or riding a bike again. And I just hope I can touch more children's lives and change more children's lives and help the culture at school," she said.
Together, JessAngelique and Mike Dawson currently perform in Missouri, Iowa, Kansas and Nebraska.
Their next performance will be February 2 in Elwood, Kansas and Wathena, Kansas.