Duncan said his comments were meant to show that Saskatchewan students, wherever they go, are getting a good education.
Content of the article
Education Minister Dustin Duncan said he was not harassing public and Catholic schools after the NDP accused him of doing so for his remarks about student grades.
Content of the article
House Leader Nicole Sarauer grilled Duncan Thursday during Question Period in the Saskatchewan Legislative Assembly, accusing him of dragging state-funded systems "through the mud," after he suggested that qualified students in schools independents have better grades than children who attend Catholic or public schools.
Content of the article
Duncan told the chamber on Tuesday that 57% of qualified independent school students had scored above 80% on their departmental exams in the past year, while 54% of Catholic or public school students had scored above 80%.
Duncan pointed to the grades as proof that students at qualified independent schools receive a "good education." He reaffirmed the government's support for parents being able to send their children to independent schools.
Content of the article
On Thursday, Duncan told the assembly he was not criticizing public education when he made his comments.
He said he was trying to demonstrate that no matter where students attend school, they "achieve at or near the same level".
He said 68% of students at Associated Schools, which are religious schools that have an operating agreement with state schools, scored above 80% on their departmental exams.
"Students, even in independent schools … learn the curriculum and can score close to where public school students are in terms of departments," he said.
Sarauer told the chamber that qualified independent schools are not held to the same standards "and their ratings are inflated."
Content of the article
She said public and Catholic schools could not choose their students.
"I hope this minister really realizes that he is not the minister for qualified independent schools. He is in fact the minister for all education," she said.
Duncan has come under fire over the past two weeks over allegations of abuse at certain qualified independent schools, including Legacy Christian Academy, as well as some of the material taught at those schools.
Former Legacy students said they learned from a biology textbook that claimed humans and dinosaurs co-existed. He cited the Loch Ness Monster, which is a mythical creature, as proof that dinosaurs exist today.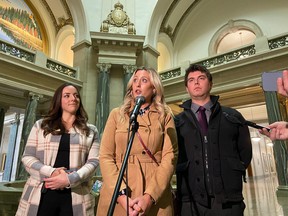 While Duncan says independent schools may not have fully followed the curriculum until 2012, he said the manual is no longer widely used as a resource for qualified independent schools.
Content of the article
He told reporters on Tuesday that a few chapters in the book are not considered problematic, including those dealing with genetics, photosynthesis and evolution.
He said the ministry worked with qualified independent schools in 2013 to ensure they followed the curriculum.
Caitlin Erickson, who filed a lawsuit over alleged abuse at Legacysaid controversial teachings persist, noting that many resources are listed on the Saskatchewan Association of Independent Church Schools (SAICS) website.
Duncan said he should check the website again, but added that the department had reviewed textbooks taught by schools that follow SAICS.
"For the most part, apart from the denominational elements, I think the ministry is confident that the information in the textbooks and the information that is part of the curriculum could probably be used in any school in the province," said he declared. said.
Content of the article
He said accelerated Christian education textbooks that were in use before 2012 were deemed unacceptable. The ministry has worked with schools to rewrite their textbooks to align them with the curriculum, he said.
He noted that the government does not have much control over what is taught in registered independent schools, which do not receive government funding. He said they don't get the same level of oversight.
However, Sarauer accused Duncan of not being tough on the teachings.
"The Minister for Education refuses to admit that Loch Ness isn't real," she joked.
News seems to be flying towards us faster all the time. From COVID-19 updates to politics and crime and everything in between, it can be hard to keep up. With this in mind, the Regina Leader-Post has created a Afternoon titles newsletter that can be sent to your inbox daily to ensure you are up to date with the most vital news of the day. Click here to subscribe.